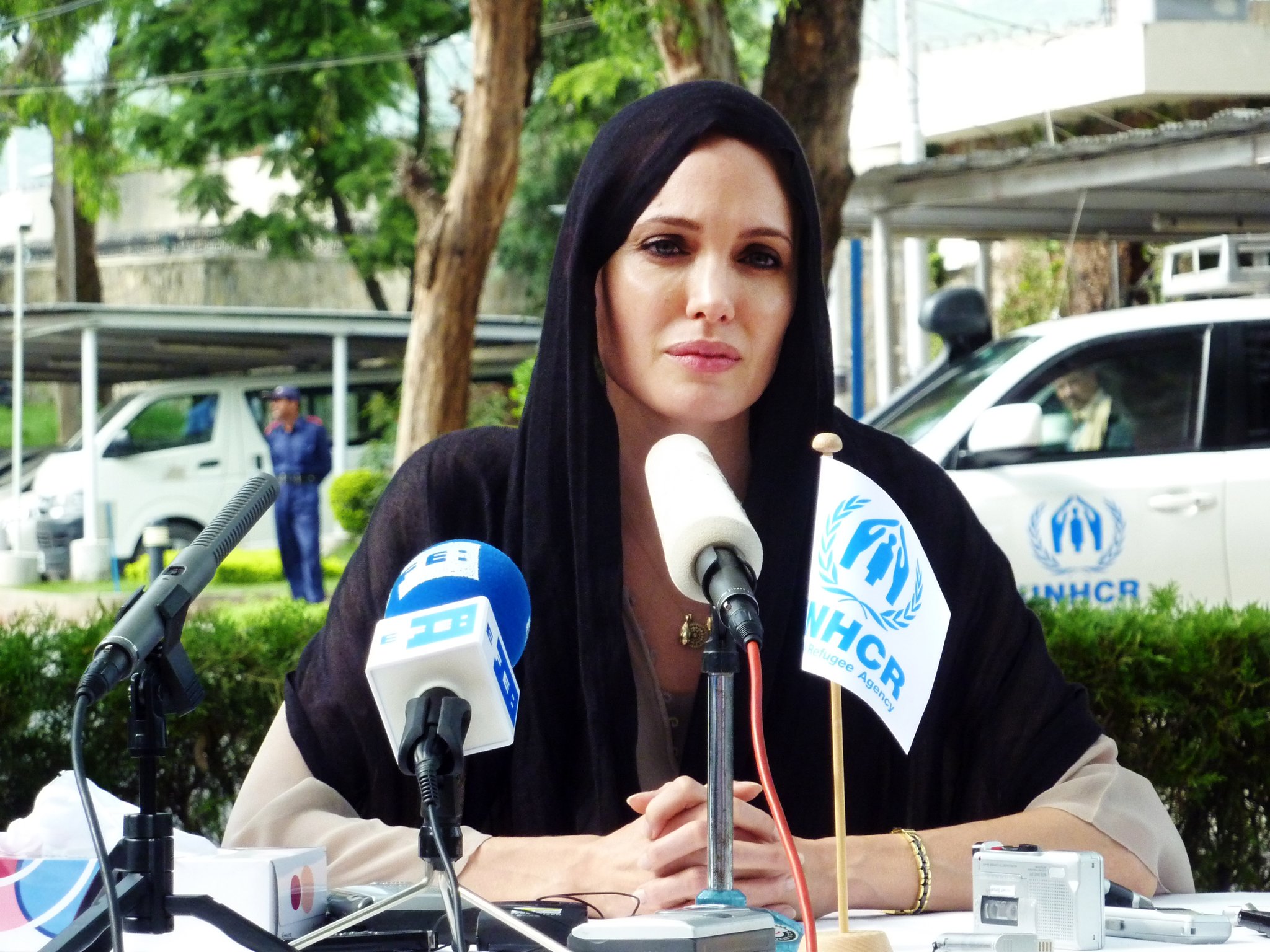 American esteems require the affirmation of more Muslim outcasts, announced big name liberal Angelina Jolie at an Islamic occasion on Monday in Virginia. The Hollywood face of the UN's exile organization, she joined Secretary of State John Kerry in pushing for the resettlement of a huge number of Muslim displaced people in the US. No thought of option territorial resettlement alternatives for Middle Eastern or African outcasts was made by either Jolie or Kerry.
Conveying Muslim exiles to the US realizes American esteems, guaranteed Jolie. Before a for the most part Muslim group of onlookers, she surrounded the UN's outcast motivation as an activity in philanthropy. The occasion was facilitated by the All Dulles Area Muslim Society (ADAMS), a subsidiary of the Islamic Society of North America (ISNA), which is associated with the Muslim Brotherhood.
Angelina Jolie with John Kerry addressing journalists at the Department of State on Monday
"It is our commitment as Americans to make a country that respects those getting away from affliction," said Jolie. "Escaping their homes not by decision but rather in light of the fact that it is essential for their survival. An awesome America is a merciful America."
Unfit "differing qualities" fortified America, asserted Jolie.
"When we are at our most grounded, it is the point at which we draw on our differing qualities as a people to discover solidarity in light of our normal esteems and our bigger personality," proclaimed Jolie. "We are not solid regardless of our differences, we are solid as a result of it."
Recasting Islamic psychological oppression as "rough radicalism," Jolie conveyed an undefined expression instituted by the Obama Administration with the end goal of denying the marvel's ideological and religious measurements.
Without explicitly recognizing Islam, Jolie discredited endeavors to "demonize" the "lovely religion."
Comments
comments