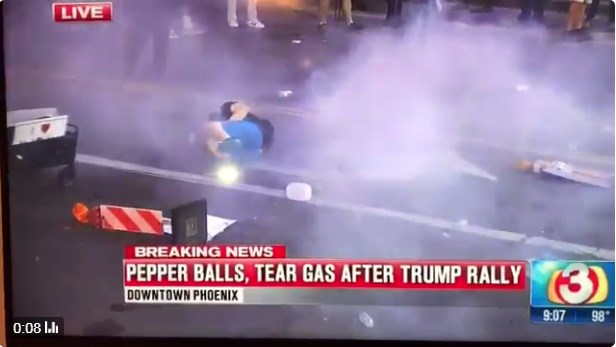 Talk about a great shot! In an effort to disperse Trump protesters, Phoenix police fired off pepper balls and tear gas canisters. Of course, many protesters, a large number of them Antifa, chose to defy the police's orders. An Antifa member paid the price for failing to disperse, getting nailed in the balls by a tear gas canister. That'll leave a mark!
Phoenix Trump Protester Ignores Police Orders, Gets Shot By Pepper Ball Before Being Escorted Away By Personpic.twitter.com/gFKq1Yxqnr

— Breaking911 (@Breaking911) August 23, 2017
The police hurled percussion grenades and tear gas at the Alt-Left mob.
Officers are addressing criminal behavior near 2nd St & Monroe. Please follow directions to move from the area.

— Phoenix Police (@phoenixpolice) August 23, 2017
FOX Business Network host Jeff Flock screamed, "Holy sh*t!"
An Alt-Left thug was flashing gang signs behind Jeff Flock at one point.
The alt-left mob claimed they were completely peaceful.
Doubtful.

Comments
comments